Cornell University Library's annual Elevator Art Contest gives Cornell undergraduate, graduate, or professional school students the chance to showcase their creative talents. Our theme and prompt for the 2023 competition is "backstory," which Merriam-Webster dictionary defines as "a story that tells what led up to the main story or plot (as of a film)." What backstory has defined your life, or what backstory reveals an important aspect of the world? Selected artwork is featured on the elevators in both Mann and Olin Libraries. Please read on to learn more about the winning Mann entries!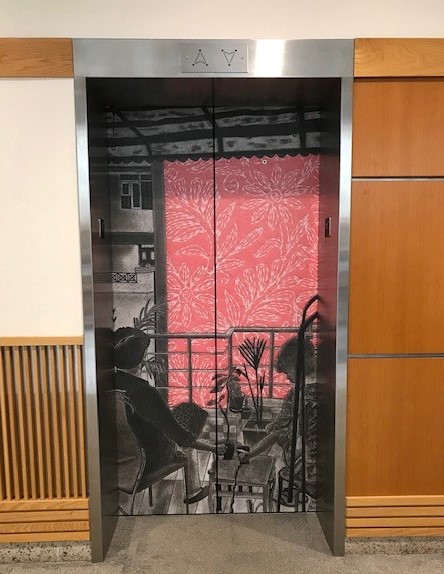 Akhil Kang '25, College of Arts and Sciences
An anthropologist and a human rights lawyer by training, Akhil's art practice imagines queer folks living uninhibited, free lives. They work mostly with charcoal, and mixed mediums including oil pastels, acrylic colors and torn pieces of fabric. They have been neglected, denied, violated, rejected because of them being a dalit, so in their art – they use their queerness to imagine a carefree dalit-queerness.
Julie Baby
"I was inspired by my two friends who tried to recreate their first date (which was in the city of Bangalore) on my home's balcony in Delhi, India. This balcony date occurred a few weeks before the devastating second COVID wave in Delhi in 2021. Most public places had been ordered shut by the government, and my friends were meeting after more than a year of being apart. I held on to this moment throughout the monstrous second wave to remind myself that touch survives and thrives despite all the loss in the world around us. I stumbled upon my friends' intimate moment and almost felt like I was part of their backstory, too: their story of love, of desire, of longing, and of touch. I mostly work with charcoal and mixed mediums, including soft pastels, watercolor pencils, and torn pieces of fabric. In this piece, I used charcoal and chikan fabric (a type of cloth famously made in the city of Lucknow in North India)."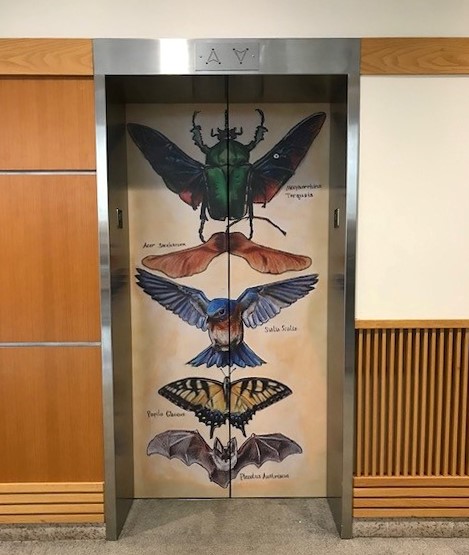 Charlotte Tysall '26, College of Arts and Sciences
I'm studying Biological Sciences in the college of Arts and Sciences and I'm working on a minor in Fine Arts. As of right now, I'm planning on concentrating in ecology and evolutionary biology, and I'll be doing research this summer here at Cornell in this field. I'll be going into my second year in the fall. In my freshman year, I was involved in Cornell Running Club which has become one of my favorite parts of school. Mann Library is one of my favorite places to work because of the scientific illustrations and plants you can see everywhere.
Converge
"At Cornell, you can talk to anyone and realize immediately how different your backstories can be. We're all from different places, with different interests and beliefs. We've been through different struggles, and yet we've all ended up here. I think it's great how we're all united through our ability to come together through shared desires to learn and work hard despite our diverse range of "backstories," and I illustrated this idea by relating it to a concept I had learned in my biology class: convergent evolution. It's what happens when organisms with entirely different ancestors, traits, environments, etc., are faced with similar selective pressures that causes them to evolve the same types of morphological structures. Just like how we as students and faculty of Cornell differ greatly in our backgrounds, the organisms in the piece have entirely different niches, yet they've all developed some form of wings so that they have the ability to fly. Placing these different-colored and different-looking species together (scaled to roughly the same size) was my way of showing how things can end up in the same place when they all work towards a similar goal, just like we do at Cornell."