Our annual Elevator Art Contest gives Cornell undergraduate, graduate, or professional school students the chance to showcase their creative talents, win a Cornell Store prize, and inspire others along the way!
Prompted by our 2022 theme, contestants were invited to interpret what "connection" meant to them and submit a piece of artwork of their authorship to be featured on the elevators in both Mann and Olin Libraries. The students were also asked to describe how the art related to the proposed theme and to include a paragraph with some basic information about themselves.
The entries received were stunning and after some careful debate, we have selected our winners! Read on to learn more about these talented students and their submissions, and don't forget to stop by and admire these wonderful creations in person! For the full article on all the winners, visit: www.library.cornell.edu/about/news/archive/congratulations-our-2022-elevator-art-contest-winners
Wenjia Zong MA '22, College of Human Ecology
Wenjia is a graduate student in Apparel Design with research focused on body shapes, style, and fit in virtual technologies. With years of professional working experience, she is well experienced with fashion production, design, and retail management. Wenjia was born and raised in Yunnan, China, and attended California State University, Long Beach, as an undergraduate major in fashion merchandising and design.
"This photo was taken in Huntington Beach Central Park in the spring of 2021, one year from when the first pandemic hit the US. Family, friends, and colleagues have been physically separated since then. Spring is here again—just like this bee—with the sunshine and water from winter. Everything will bloom again, and he can collect pollen like in all other springs. With hope, we will get over the pandemic soon and be able to connect, reunite, and live/travel like before."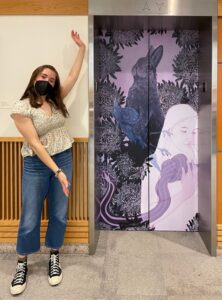 Elizabeth Hughes '25, College of Arts and Sciences
Elizabeth is a freshman studying Environment & Sustainability with a concentration in Environmental Biology and Applied Ecology. She is originally from Texas, but now lives in Annapolis, Maryland and will be spending this upcoming summer working on a small, organic farm in northern New Hampshire. Elizabeth currently works in a plant pathology lab on campus but is excited to expand her understanding of sustainable agriculture and soil science over the coming years.
"Grief can be an overwhelming thing to handle. The thoughts and emotions that come with it seem to span all aspects of our lives at times, knotting everything within us together. Over the past few years, I have been learning to slowly come to terms with my grief and grow from it, finally loosening and untying the knots while connecting with myself on a much deeper level than I ever have before. While the piece represents the struggles I have processed and the understanding I finally have of myself and my place within the world, I chose to depict this through symbols rather than being completely straightforward. I would like the viewer to take what they want from the piece, while at the same time coming out with a sense of the importance of understanding and connecting with oneself."