You may have seen some new faces (under those masks) at the library recently, so let us introduce our newest team members who joined Mann over the past six months!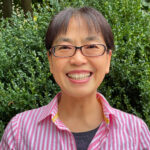 Yue Hao, Evening & Weekend Supervisor
Yue joined the Mann Library team in September 2021. Prior to coming to Mann, Yue worked at Ithaca College Library as an evening and weekend supervisor, gaining experience in access services and student supervision. She has a Bachelor of Education in Physical Education from Beijing Sport University. Her other professional experiences range from supervising a team of students volunteering at the Summer Olympics in Beijing in 2008, to helping with the creation of a webpage for East Asia Scholars at the Cornell Kroch Asia Library.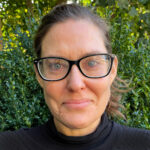 Peggy Tully, Gallery & Outreach Spaces Coordinator
Peggy was hired as our interim Gallery & Outreach Spaces Coordinator in September 2021. She has a Masters in Landscape Architecture from Cornell, and recently worked with Ithaca Neighborhood Housing Services. As a research fellow with Syracuse University's School of Architecture, she managed the production of a design book series and a large group exhibit focused on sustainable, affordable housing and land use for underserved populations in the Syracuse metro area. Since 2007, Peggy has also been an active partner in an Ithaca-based environmental and cultural landscape design practice.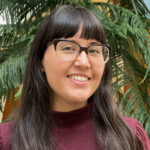 Natasha Bishop, Information & Public Services Assistant
Natasha joins us from the Arnot Art Museum in Elmira, NY where she has been responsible for planning exhibits, leading accessibility and inclusive design initiatives, and building partnerships with community members and artists. Prior to working at the museum, Natasha was a special collections reference assistant and research assistant for the Syracuse University Libraries. She has MA in History of Art from Syracuse University.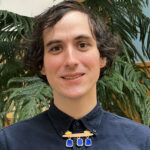 Liam Murphy, Information & Public Services Assistant
Liam comes to us from across campus where they worked at Olin Library as a Senior Circulation Assistant. Liam has worked as a teaching assistant in Cornell's Anthropology department, a lab assistant in a Cornell Archaeology lab, a Public Program and Exhibits Coordinator for an Indiana University Archaeology Lab, and a museum educator. Liam holds an M.S. in Anthropology, and a Professional Certificate in Museum Studies from the University of Wisconsin-Milwaukee.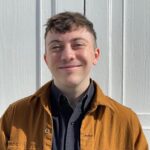 Carson Williams, Collection Development Librarian
Carson served as Youth Services Librarian at the Thomas Branigan Memorial Library in Las Cruces, New Mexico and was previously the Adult Services Librarian at Benson Memorial Library in Titusville, PA. In both libraries Carson did collection development work and ensured that the collections were as diverse and inclusive as possible through data-driven diversity audits. While earning his MLIS at Clarion University of Pennsylvania, Carson gained a great deal of real-world social sciences experience while working in a psychiatric hospital. Carson has presented on LGBTQIA+ representation in collection development and has published in Library Journal.