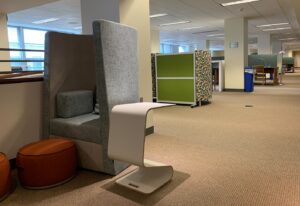 Mann Library's refurbished graduate study area – which includes both the David R. Atkinson Graduate Student Study Room and the Joseph and Geraldine McManus Study Room – is located on the library's 3rd floor. The renovation of this space was concluded in early 2020 and now provides furniture and technology conducive to a wide range of work styles. From private study pods and carrels, to counter-height open tables, to collaborative booths and docking stations, Mann has a variety of furniture options to meet the needs of graduate students. Graduate students can reserve desks and study seats ahead of time on the library's Find a Space webpage: mann.library.cornell.edu/find-a-space.
In line with principles of user-centered design for library spaces, graduate students from across campus had a direct hand in shaping the area's facilities upgrade, providing feedback via interviews and journey mapping exercises. In addition to the gratitude we owe to the students who provided this invaluable input, Mann gratefully acknowledges the gift that made this important renovation possible: a bequest from our generous friend, the late Mary A. Morrison (1921-2017), who was professor of nutritional sciences at Cornell from 1960 to 1988.
We also have lockers in the graduate study area that are available for loan by the semester – please inquire at our Help Desk. In addition to the graduate study area, we have five graduate study rooms elsewhere on the 3rd floor. These are individual study rooms that are reservable for up to 8 hours at a time and are limited to graduate students only. These can be reserved at spaces.library.cornell.edu/reserve/mann-grad-study.
Head up to the 3rd floor on your next visit to Mann Library and check out all the new study space options. Your new favorite study spot is waiting to be discovered!